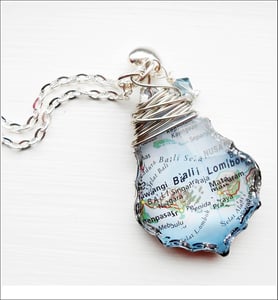 $

65.00
VIEW THIS ITEM AND MY FULL COLLECTION OF MAP DESIGNS FOR YOU AND YOUR HOME AT WWW.DESIGNSBYTAYLOR2U.COM
Pick any place (on earth) that has special mean to you or your bride.
I will scour my maps and books for your location and will have it displayed behind a 2" faceted chandelier crystal prism. The sides and back of the pendant will be completed soldered for protection.
A sterling silver puffy heart and a blue Swarovski crystal adds a special touch to your custom piece.
WHY WEAR A MAP PENDANT LIKE EVERYONE ELSE?
Stand out and get noticed!
It won't be unusual for a stranger to grab you by the neck to get a closer look. It has happened to me on several occasions. (Laughing.)
This is an actual crystal NOT cut glass. I only use ORIGINAL Maps. NO photocopies, digital downloads or scanned images here!
The necklace will arrive beautifully wrapped in a gift box and a stamped cotton jewelry pouch that reads "REMEMBER When".